Affiliate Marketing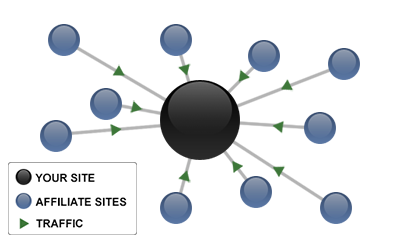 Have affiliates advertise your website and only pay for results. This gives you the exposure you need to establish branding and awareness, but without the huge costs of banner advertising. An Affiliate program is a marketing system where you offer others an incentive (such as a commission) for other companies to advertise your site.
The companies who join are called affiliates and they only earn a commission on actual sales you receive from their site. You can offer the affiliates a choice of marketing options, the most popular being banners, e-zine adverts and text links. You pay affiliates only after the results of the advertising have come in i.e. £500 of sales, or 10,000 clicks.
The more sites that join your affiliate network the more traffic and exposure you get, promoting your site all over the internet. You only pay for results of your choosing, the most popular types of affiliate program being, PPS (pay per sale) and PPC (pay per click).
AllAffiliatePro affiliate software can be used to create virtually any type of affiliate program, not limiting you to only one type, you may offer several types of program at the same time, allowing your affiliates to choose their preferred incentive.
Private Affiliate Networks
If you have a network or collection of sites, then you need a more powerful solution. AllAffiliatePro can provide private affiliate networks for more than 20 sites, giving you full administrative control over the network, and allowing you to keep all the affiliates you signup to your own sites rather than share them with other advertisers like on an open network.
Affiliates only need to signup once for all the sites on your network, and payouts are calculated across the network. You can set individual commission rates for each site, and take advantage of all AllAffiliatePro's features.
Affiliate Program Types
Pay Per Click (PPC)

Pay Per Unique Click
Pay Per Raw Click
Pay Per Blind Click

This is where affiliates are offered a set payment for each visitor they send to your site. This can be directly compared to CPC (Cost Per Click) advertising. Clicks can be broken down into 3 categories, Unique, Raw, and blind. AllAffiliatePro can be used to track and offer commissions on all of these categories of clicks.

Pay Per Performance (PPP)

Pay Per Sale
Pay Per Lead
Pay Per Action
Pay Per Email
Pay Per Anything you want

This is where affiliates are offered a payment only when a visitor to your site performs a desired action, such as purchasing a product or contacting your sales department. This type of affiliate program has become very popular as you only pay for actual results. Popular performance options are PPS (Pay Per Sale) where affiliates are offered a % commission on sales they refer or a flat £ amount on sales they refer, and PPL (Pay Per Lead) where affiliates are offered a flat £ amount for leads they generate for your site. AllAffiliatePro can be used to track and offer commissions on all of these options. A popular example of a PPS affiliate program is the Amazon.com associates program offering 5% commission on sales.
What is AllAffiliatePro?
AllAffiliatePro is a powerful affiliate tracking software package. It can plug into virtually any order processing system in existence, and run on virtually any operating system. The website describes what features the AllAffiliatePro software has, shows the benefits of using such software for affiliate marketing and advertising tracking, and offers the range of solutions to fit your company's individual needs. So you get your perfect affiliate marketing solution.