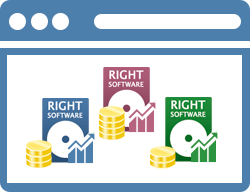 Our Affiliate Program Solutions
We have solutions for all budgets and situations, for whichever type of affiliate program you want to run. We now have new packages to make choosing exactly what you need easier. You can still have us custom design a package for you by contacting us.
Affiliate Programs details
Single - Driven by AllAffiliatePro software. Perfect if you run only one website that you need to promote.
Private Affiliate Networks details
Multiple - Promote all of your websites through one central affiliate program.
Hosting Options
You can run the software off your own servers, or it can be hosted for you in the cloud. Both options come with their own advantages, and disadvantages. Which is best for your business depends on several factors. Are you on shared hosting? Or do you have a dedicated server? Do you have a system administrator? How often do you change your hosting provider? Does your hosting support the software's requirements?
Hosting the software yourself:
Advantages: Everything is in one place. No additional monthly fee*.
Disadvantages: Increased responsibility. Software needs to be reinstalled and configured when you change servers/hosting. Software provider may not have access in case of emergency.
Hosting in the cloud:
Advantages: Software provider has instant access in case of emergencies. Not affected by your websites changes in hosting. Less responsibility.
Disadvantages: Software is outside of your direct control. Additional hosting fee.
Hosting fees
Priced on a monthly cost per click.
| Clicks | Price |
| --- | --- |
| 0 - 1,000 | Free |
| 1,001 - 10,000 | 0.3p/click |
| 10,001 - 100,000 | 0.125p/click |
| 100,001+ | Contact us |
* This depends on your current hosting package. You may find that you need to upgrade, or pay for extra bandwidth with the software installed.